Sovereigns
Twin Pine actively seeks to assist Sovereigns in South and Southeast Asia that are exploring, or are in the initial stage of, cross-border bond issuance. Our expertise in crafting impactful solutions has led to multiple and repeated collaboration with leading financial institutions, and our work has been endorsed by regulators, promoters, and leading international institutions.
Our non-Sovereign
Our non-Sovereign emphasis is on state enterprises and leading local corporates in the region, helping them access regional and international debt and equity capital markets.
Our main funding hub
Our main funding hub remains the Thai Capital Markets, given its depth, ample liquidity and developed infrastructure, with supportive policies on regional integration.
"We are a passionate group of professionals who believe in the significant potential of this region. Our team's DNA is to persistently strive to deliver the most effective solutions for our clients"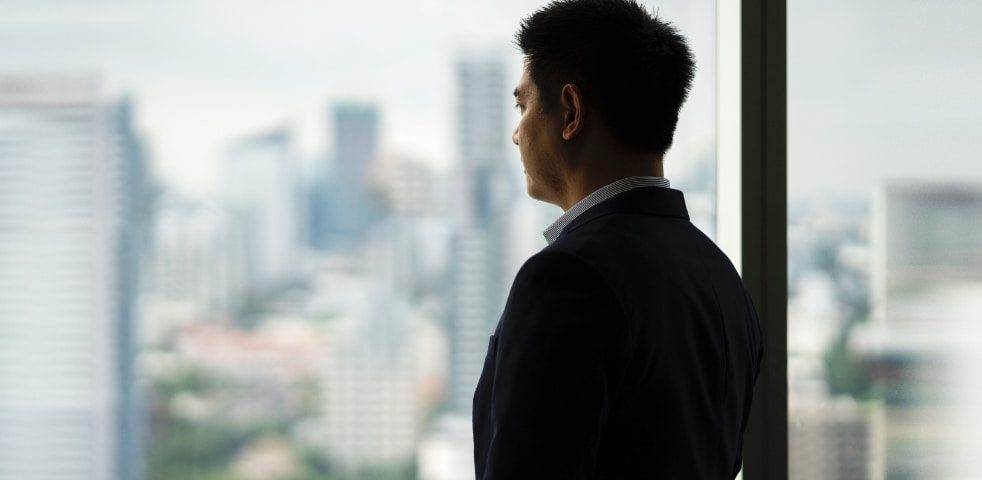 Vision
To strengthen regional financial integration in an impactful way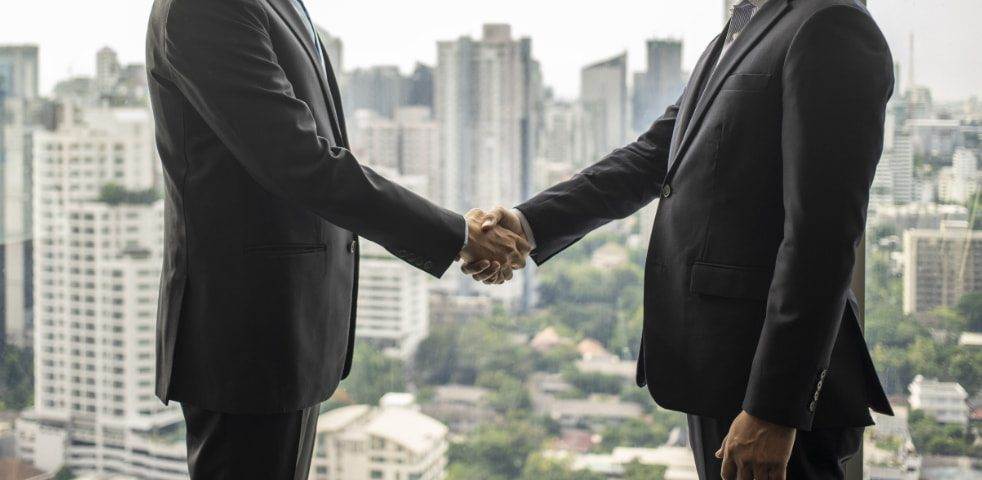 Mission
To promote linkages in the region by creating access to funding and executing strategic transactions for government, state enterprises and leading local corporates

Commitment to executional excellence, high ethical standards, and business integrity

Good Governance
Promotion of sustainability and good governance, to access funding in a way that ensures clients grow efficiently and diligently

Entrepreneurship
Entrepreneurial and risk-embracing, unafraid to tap the potential of a relatively unknown, untapped opportunities

People Development
Development and reward for the talents, strengths, and contributions of our people

Community
Passionate commitment to contributing to the betterment of our society by "giving back" to the community in which we work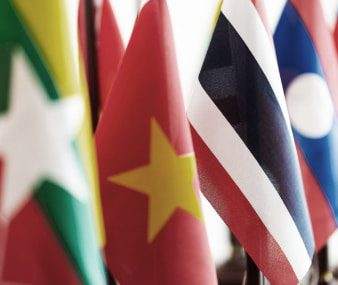 Established
Established as a regional boutique financial advisory firm catering to ASEAN economic cooperation and focusing on the Greater Mekong Sub-region
Ministry of Finance Lao PDR
– THB 1,500 million 3-year Unrated THB Bond Offering
– "Debut Cross-border Sovereign Bond Deal"
– "First Unrated THB Bonds by Foreign Issuer in Thailand"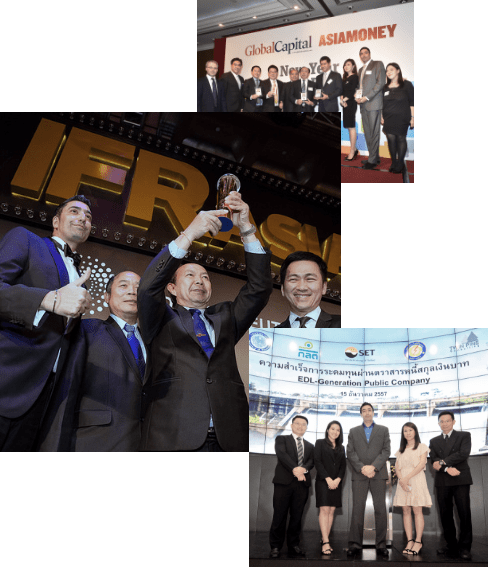 EDL – Generation Public Company
– THB 6,500 million triple tranche (5, 7, 10-year)
THB Bond Offering BBB+ by TRIS – Rating
– "First Rated THB Bonds in Thailand by CLMV Issuer"
Ministry of Finance Lao PDR
– USD 182 million 10 and 12-year USD Floating Rate Notes (FRN) Offering BBB+ by TRIS Rating
– "Longest-dated Foreign Currency Bonds Issued in Thailand"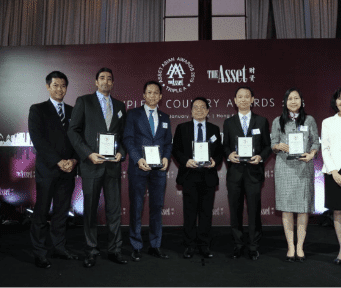 EDL – Generation Public Company
– USD 312 million triple tranche (7, 10 and 12-year)
USD Bond Offering BBB+ by TRIS Rating
– "First and Largest Foreign Currency Bonds Issued in Thailand by Foreign Issuer"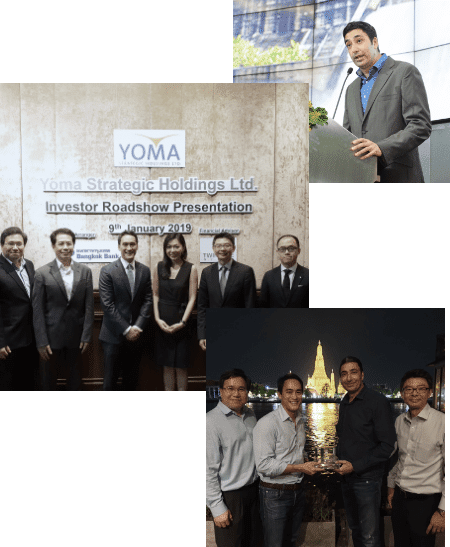 Ministry of Finance Lao PD
– THB 14,000 million multi-tranche (3, 5, 7, 10, 12 and 15-year) THB Bond Offering BBB+ by TRIS Rating
– "Largest and Longest Foreign Sovereign Issuance in the Thai Capital Market"
Yoma Strategic Holdings
– THB 2,220 million 5-year CGIF Guaranteed THB Bond Offering ranked AAA by TRIS Rating
– "Debut Cross-border and First CGIF Guaranteed Bond by a Myanmar-focused Issuer in Thailand"
2014
Asiamoney Awards – "Country Deal of the Year Laos" EDL-Generation Public Company's THB 6.5 billion triple-tranche bond
2015
The Asset Triple A – "Deal of the Year Laos" MOF Lao PDR's THB 12 billion triple-tranche bond
IFR Asia Awards – "Frontier Markets Issue of the Year" EDL-Generation Public Company's THB 6.5 billion triple-tranche bond
2016
Asiamoney Awards – "Best Deal in Laos" MOF Lao PDR's THB 11 billion five-tranche bond
IFR Asia Awards – "Frontier Markets Issue of the Year" MOF Lao PDR's THB 11 billion sovereign bond
The Asset Triple A – "Best Bond Laos" EDL-Generation Public Company's USD 312 million triple-tranche bond
2017
The Asset Triple A – "Best Bond Adviser Laos" Twin Pine Group Company Limited
The Asset Triple A – "Best Bond Laos" MOF Lao PDR's THB 14 billion multi-tranche bond
2018
Finance Asia Achievement Awards – "Best Laos Deal" EDL-Generation's THB 13.7 billion multi-tranche bond
The Asset Triple A – "Best Bond Adviser Laos" Twin Pine Group Company Limited
The Asset Triple A – "Best Corporate Bond Laos" EDL-Generation's THB 13.7 billion multi-tranche bond
2019
Finance Asia Achievement Awards – "Best Myanmar Deal" Yoma Strategic Holdings' THB 2.2 billion bond
Global Capital Asia – "Best Local Currency Bond" Yoma Strategic Holdings' THB 2.2 billion bond
The Asset Triple A – "Best Bond Myanmar" Yoma Strategic Holdings' THB 2.2 billion bond
The Asset Triple A – "Best Bond Adviser Laos" Twin Pine Group Company Limited
The Asset Triple A – "Best Bond Laos" MOF Lao PDR's THB 7 billion four-tranche bond